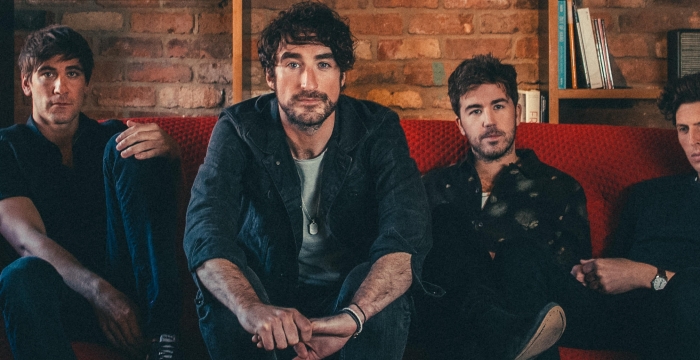 THE CORONAS – BIOGRAPHY – 2017
With four double platinum albums, a slew of top ten singles, sold out arenas and a legion of devoted fans behind them The Coronas have earned their title as one of Ireland's best loved and hardest working bands.
This year, 2017, The Coronas will release their 5th studio album Trust The Wire revealing their most refined and confident record to date and with this milestone Danny O'Reilly (vocals, guitar), Graham Knox (bass), Conor Egan (drums) and Dave McPhillips (guitar) have much to reflect upon.
The Coronas burst into the Irish consciousness with their debut single Decision Time in 2007. It had been a decade since the guitar bands of the 90's ruled supreme and The Coronas injected the Irish airwaves with a refreshing dose of catchy ruckus once again. A new wave of millennial rockers were arriving (Arctic Monkeys, The Kooks) and The Coronas were leading the pack in Ireland. By the end of 2007 The Coronas had released their debut album Heroes or Ghosts to huge acclaim and had 3 hit singles in the charts; the last of which San Diego Song set Irish radio aflame and propelled The Coronas into the spotlight.
But despite the height of 2007's trajectory The Coronas success was not achieved overnight. In fact the seeds were sown back in the 80's when newborn Graham Knox met his 2 week old brother-in-arms Danny O'Reilly. Their parents already shared a friendship deeply rooted in music and so the stage was set.
Graham Knox and Danny O'Reilly went on to attend Terenure College secondary school in Dublin together, along with classmate Conor Egan. All three were heavily involved in music at the school and as they honed their skills and experimented with songwriting, playing live became their shared ambition. They took their first jab at the live music scene in 2001 as Kiros; the buzz was incomparable and the friends were hooked.
The band went through various transformations over the course of a few years and eventually emerged as The Coronas, a four piece band with fellow dub Dave McPhillips on guitar shredding duties and classmate Jim Lawless enlisted as manager, who remains at the helm today.
Early days saw The Coronas hit the small venue circuit in Dublin, gathering a steady following and packing venues by word of mouth. Two EPs from 2005 (and from a time when they were called Corona) had spread like wildfire among Dublin students at home and abroad that summer.
From that point their fan base continued to snowball and by 2007 The Coronas found themselves selling out shows throughout Ireland, playing to thousands at Oxegen and Benicassim, sharing a stage with Sir Paul McCartney and supporting Pink across a six date UK/Irish tour. All the while their debut album Heroes or Ghosts, released on their indie label 3ú, was dominating the airwaves and turning platinum. The band that took their name from the Smith Corona typewriter in the movie Almost Famous had certainly dodged the prophecy of it's title.
In reminiscence of 2007 Danny recalls "It was so much fun, we decided when we left university, we would give this 'band thing' a year and see what happened. We were all working part time jobs and thankfully when San Diego Song took off we got busy enough that we had to give up the jobs and go with it."
Now exactly a decade on from that pivotal year The Coronas have eclipsed their early dreams. The band have toured the globe together, remaining a tight knit unit, and released three albums since their debut, namely, Tony Was an Ex Con (2009), Closer to You (2011), and The Long Way (2014) all of which turned double platinum in Ireland.
Heroes or Ghosts (2007), their breakthrough record, simmered with a zeal and honesty that seduced the Irish public and became the trademark of The Coronas appeal. "I found from a very early stage that the more honest I was and the more of myself I put on the page, the more it connected with people. And besides I never really felt comfortable writing about anything other than what I was going through anyway" says Danny. With Heroes or Ghosts they tried and succeeded, and their ambitions inevitably grew bolder. "When we recorded Heroes Or Ghosts we had barely toured outside Dublin, never mind outside Ireland. By the time it came around to writing the second album, we felt more assured and more like a band, we felt like we had a proper sound now."
Tony Was An Ex Con (2009) arrived 2 years later to a burgeoning fanbase and with it The Coronas sidestepped the notorious struggle of the sophomore album and shot straight to the top of the charts. It earned the band their first Meteor award, staving off competition from U2, Snow Patrol and Bell X1. Following it's release, The Coronas went on to sell out their biggest headline show at Marley Park in the summer of 2010 to over 7,000 fans and subsequently sold out a six night run at Dublin's Olympia Theatre that Christmas.
The buzz continued to grow and with it the motivation to write their third album. The Coronas took to LA's Sound Factory to record 2011's Closer To You revealing a marked shift to a brighter indie pop sound under the guiding hand of producer Tony Hoffer (Beck, Supergrass, Air). "We loved Tony Hoffer as a producer, especially the Kooks and The Thrills records he had done" says Danny. "We felt he would get the best out of us, and I think he did. He played to our strengths. We were a good live band with some decent tunes, and he took us to the next level organically".
Closer To You topped the charts in Ireland once again and, ambition unyielding, they began to consider the next step. "We felt for our own sake we needed a new challenge" says Danny. "To a certain extent we had gone as far as we could in Ireland and wanted to develop and spread our music further afield."
With so much achieved The Coronas were invigorated and got to work on their 4th studio album 2014's The Long Way with producer Elliot James (Kaiser Chiefs, Two Door Cinema Club). And in a bid to stake their claim beyond Ireland The Coronas made a move to London, stepping off their own indie label and signing onto a four album deal with Island records (Universal). The record, brimming with anthemic choruses, brooding lyrics and stadium scope assuredness, was a direct hit going into the Irish charts at number two. The move to London proved an immeasurable experience but also a huge learning curve for the band. They decided that independence was crucial to their success and so they went back to the drawing board ahead of their 5th album. "We were so excited to sign to Island records after moving to London. We felt it was the right time for us to try something different and they promised us certain things about how they planned to promote us" says Danny. "Unfortunately, though, they didn't deliver, by their own admission. We loved working with Universal Ireland but it just made more sense for us to take control and start our own label, on our own terms."
Trust The Wire, The Coronas 5th studio album is set for release on June 2nd 2017 on their brand new indie label So Far So Good Records, a development that the band are equally enthusiastic about. "Ideally it will outlast our band and continue on its own journey for years to come," says Danny. For the writing process The Coronas returned home to the awe inspiring shores of Dingle and when it was time to record they looked once again to Elliot James for production at Notting Hill Eastcote Studios in London. The result is a self assured, gutsy record which lends itself to a broader listenership and confirms that The Coronas were right to trust their instincts. They no longer have room for any doubt.
And with that, the next step is inevitably to take on the world. "We can't wait to get on the road again," says Danny. "We'll be packing the van and traveling all over, building things up to the next level. It's funny because we're at different levels in different territories but we enjoy each stage and love travelling together. We'll be touring Europe, US, UK and Australia all between September and Christmas so it will be busy but great!"
The Coronas will kick off their offensive at home with their largest headline show to date at the Royal Hospital Kilmainham in Dublin this July 1st in front of 15,000 fans and it's a moment that they intend to savour. "We're so excited" says Danny. "It's the culmination of a couple of years hard work. We appreciate how lucky we are to be in a position to headline such a venue, we're gonna enjoy every minute!"
www.thecoronas.net