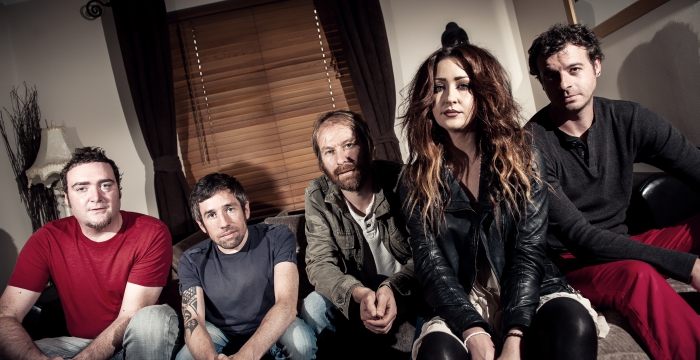 Watch your house! Here come Waterford 5-piece Solar Taxi, with a bag full of tunes for your edification and delight.
Solar Taxi began in 2009 as a result of a meeting between vocal powerhouse Aisling Browne and bassist and production maestro Peter Vogelaar. Both are well seasoned performers, having toured and recorded with a variety of different artists over the years. Their early recordings caught the eye (and ear) of folk legend John Martyn. Martyn became a mentor to the pair, offering them advice and supporting them in their endeavours. 'We had the great pleasure of being in John's company. He was such a big influence! His support was a serious morale booster for us !'
The band truly came to life in 2010, as Aisling and Peter were both involved in other musical projects, which they put aside to focus on Solar Taxi. They got out and started playing, gigging across the country and road testing the songs they had written. Heartened by the great reaction they were getting to the early gigs, Solar Taxi pulled up their production socks and released 2 download singles between April and June 2010. These singles got the nod from the likes of Tom Findlay (Groove Armada), German electro DJ and producer Timo Maas and the Philadelphia Weekly, who said '..radio in the states needs fresh sounds like this..'
In the summer of 2010, Browne and Vogelaar decided to make some additions to the band. Long-time friend and guitarist extraordinaire James O'Halloran and drummer John Foley joined the ranks along with newest addition, keyboard whiz kid Keith Adams.
2011 saw the release of their EP She Dies With Beautiful Teeth which included the acclaimed single The Fool, which was recently licensed to US movie Exit Strategy.  The band have been featured on Record of the Day (the music industry's favourite daily digest of the best in new music) and were listed as one of Hotpress' 50 Acts You Must Hear in 2012..On the live scene, the band has won over many new fans on stage, having shared the bill with 50 Cent & The Faithless Sound System, and more recently opening for Roxette in the O2 Arena in Dublin.
And now they are ready to release their debut LP on September 21st. Energetic, diverse, soulful & rammed with catchy tunes, the much anticipated debut album Broken Brother's Secret Bells is the result of a year and a half's intensive song-writing and recording. It soaks up a wide range of influences ranging from Goldfrapp and Fever Ray to Daft Punk to Nikka Costa.  The album delivers an eclectic mix of sounds which makes it hard to pigeon-hole the band's first long player. It doesn't fail to deliver the energetic electro-pop that they are known for, with the gusto & sass of Browne's sheer vocal ability.  However, the folky Nick Drake influenced acoustic intro on Saturday's Children, the Beatles sounding Within An Inch Of My Life and the orchestral opus Parcels, showcase an ambitious, multi faceted album, full of varying tempo and colour
The first single Zodiac was released in April of this year. "If there's any justice in this rock 'n' roll world of ours, 'Zodiac' will be played to death by Irish radio and storm into the top 10. Come on programme directors, let's make it happen!" Hot Press cried!The second single Gung Ho is due for release on 14 September and is set to be a dance floor hit, with it's electro funk hook and upbeat chorus. A testament to the strength of the album and the songs within, Gung Ho is the second track to be licensed from the as yet unreleased record! It was recently aired on MTVs smash hit drama Awkward.
From the opening 'Zodiac'to the playful funky outro '1995 Sonic Valium'these accomplished musicians have pushed themselves outside of their creative comfort zone, and clearly have had a ball doing so!.
Solar Taxi are Aisling Browne (Vocals) Peter Vogelaar (Bass) James O'Halloran (Guitar) John Foley (Drums) Keith Adams (Keys)
 The album 'Broken Brother's Secret Bells' was released on CD & Download September, 2012
"…infectious, thumping & glorious for starters. With a start as strong as this, we can't wait to hear where they go" – The Star
"..if there's any justice on this fickle eared planet, they're gonna blow up like a bouncy castle at a big fat gypsy communion party" – Hotpress
"…(Solar Taxi) is the vehicle for the phenomenal vocal talents of Aisling Browne..they provide upbeat disco-era Blondie style tunes with the formidable Browne at the centre with the astounding vocal power of a young Aretha Franklin…." – The Sun