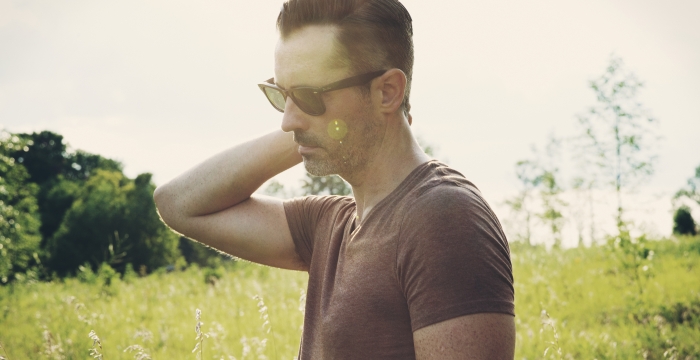 Royal Wood
"Full of beautiful melodies, heartfelt emotions and solid vocal tracks, Toronto based Royal Wood's latest album Ghost Light will leave listeners mesmerized and eager to press the repeat button". SpillMagazine.com
"GHOST LIGHT finds brilliant Toronto Single-songwriter Royal Wood haunting us with his melancholy musings about Life" Canada.com
"This show was perfection from start to finish" Canadianbeats.ca
Royal Wood is one of the most accomplished singer songwriters in Canada. He returns to Ireland this September with a live performance from his new album GHOST LIGHT on 11 September in Whelan's Dublin, the album releases on Friday 9th September and is preceded by his single release of 'Long Way Out' on 2 September.
The journey to GHOST LIGHT started years ago on a small farm in rural Ontario, Canada. While his family tended cattle, Royal, at the age of 4 was more interested in any instrument he could get his hands on, than bales of hay. His parents recognised his prodigious talent and enrolled him in music studies. "As a shy kid, growing up on farmland in the middle of nowhere allowed me to escape to the open spaces to learn music and dream without the noise of the city life". When it came time, Royal left the family homestead to attend university in Montreal where in between studies, he fine-tuned his skills by becoming the house piano player at some of the classic Montreal jazz clubs and performing Dylan inspired folks songs in coffee houses.
Realising the Montreal jazz bars and coffee houses weren't opening any doors for him, Royal headed west to Toronto to realise his dream as a singer songwriter. To pay the bills as a beginning musician, Royal found himself in the towers of Bay Street. In typical Royal fashion, he went from a traders assistant to a Senior FX Trader in a very short time. With his days spent immersed in the FX market to pay his rent, Royal continued to write and record his music at night and perform everywhere and anywhere – releasing his debut album Tall Tales and touring all over Canada. "At no time in my life did I ever want to be an FX trader, but looking back it was the best thing that could of ever happened. It gave me business acumen, money to pay for my first albums, tours and publicist, and basically fund my dream until it because a reality". The critical acclaim that greeted Tall Tales encouraged Royal to record the follow-up A Good Enough Day and more importantly, it lead him to finally quit the day job and focus on his destiny.
The accolades began to pour in, multiple Juno Award nominations, being named iTunes Songwriter of the Year, as well as opportunities to tour with Sarah Harmer, My Morning Jacket, and Hawksley Workman. Royal Wood, had gone from a farm boy musical prodigy to the chaotic lifestyle of a FX trader, to one of Canada's most acclaimed performers, producers and songwriters. All in a vey short time.
In 2013, Royal, split from his wife, headed to his ancestral home, unplugged and tucked himself away in a rustic cottage outside the Village of Slane. With that isolation, Royal wrote the album that was to become The Burning Bright. An album which spawned the Canadian radio hit "Forever & Ever" and broke Royal's career wide open in Canada.
After nearly 2 years of touring behind The Burning Bright, Royal relocated to LA to record GHOST LIGHT with co-producer Bill Lefler instead of hiring session players to perform on the songs, Royal took it upon himself to play almost every instrument. "The creation of GHOST LIGHT was an example of serendipity at it's best. My intention of being in LA was to visit with my brother that lives there, and to experience the joy of creation again with my old pal Bill in sunny California. At first we thought we'd just record a couple songs and then talk about what we might do one day down the road. But instead, we felt so inspired by the first 3 songs we recorded, so electrified by the occasion that was happening, that I bounced around from instrument to instrument like a kid in a candy store. The album literally laid itself out at our feet in a matter of a couple weeks. Even the first single "Long Way Out" only happened because on a day off in LA, I sat around with some friends writing for the sake of writing. As a result we ended up creating the 2 obvious singles for the album in one single afternoon".
The rural kid who spent the past 15 years away from home, first in the bars of Montreal, then to the breakneck pace of corporate finance, and finally to the unpredictable world of a career musician has now returned home. Last year, Royal purchased the family farm. Most recently, he turned the farm organic by giving the land to young farmers trying to change the world. Royal Wood has accomplished many of his personal and professional goals in his native Canada, and it's now time for the rest of the world to be introduced to this immensely talented and captivating performer. "Today, I find myself finally comfortable in my own skin. Finally making the music I always knew I was born to create. Finally acting independently of the good opinion of other people. I am simply following my bliss and seeing where it leads me."  With thanks to Backstage, Outside-music.com, 2015
Royal releases his single 'Long Way Out' https://youtu.be/lZs9Q85bUN8 on 2nd September
Taken from his latest album GHOST LIGHT releasing on 9th September
He performs live in Whelan's, Dublin on 11 September