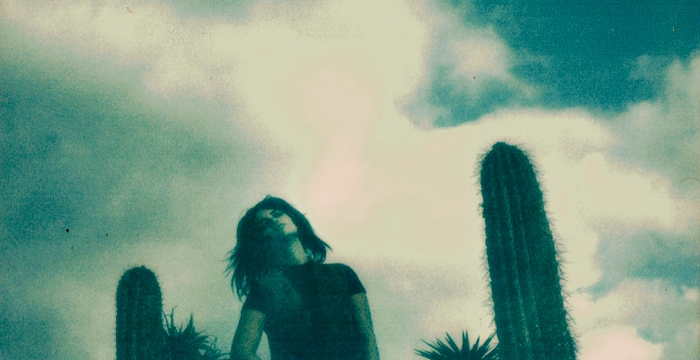 Pixie Geldof – I'm Yours
If life is but a dream, and it could be, it can also be a nightmare. (Sometimes,  definitely.) In 2016, pop music needs some reality.
"We all wanna bounce around sometimes with our roof-top down," says Pixie Geldof. "But realistically? That's not always your situation in life. Sometimes you wanna hear from people who know about that situation, too."
Forget everything you think you know about Pixie Geldof; the famous family, the fashionable friends. Her debut album, I'm Yours, is a spectral, luscious, spectacular dream-pop revelation, a glistening sonic flow of melancholy beauty and undertow depths, of woozy wanderlust and powerfully exorcised pain. Beguiling, orchestral and ecstatic, it's also bursting with anthemic joy.
"I'm Yours represents every single human I've ever loved in my life," she explains. "Songs of love in every form, platonically, family, in romance. I'm a part of these people's lives and I'm theirs in any capacity they need me."
I'm Yours is a testament, in fact, to how much we don't know about Pixie Geldof, third daughter of Bob Geldof, accidental model, lead singer/song-writer with her early 2010s grunge band Violet, who's been writing songs on-the-quiet, all this time, her tentative musical ambitions now stunningly fulfilled in this sumptuous collection of contemporary left-field pop.
A glistening soundscape, these are lovelorn paeans inspired by the music she's loved forever, from Mazzy Star in the 90s, to the ghostly guitars of the country greats, to the gossamer wash of Warpaint today. They're also emotionally brave. While no memento mori (there are sexy songs, too) she hasn't hidden from her personal reality. Two years on from the sudden death of her beloved sister Peaches and I'm Yours sweeps away the curtains to the windows of sorrow and loss, most directly in Twin Thing, a haunting guitar-led shimmer which serves as hypnotic lyrical hymn. "Into the wave where you're going, I watch you falling down… Wish I'd known you like my own skin, so I could feel the hurt you were in/Wish we had that twin thing…"
"Loss has happened to everyone I've ever met," notes Pixie. "Every single person on this Earth understands that when the person's gone, in any capacity, divorce, a death, you wake up and you are smacked with it every day for the rest of your life. You just are."
Emotional and sublime, I'm Yours is the sound of a gifted new musical presence; from the sweeping strings of the lilting Sweet Thing to the escapist euphoria of the irresistible Poison Apple. "Just call me the runaway…" soars a chorus as seductively sing-a-long as a vintage 80s torch song. The mournful hush of Wild Things Grow is the grown-up version of a five-year-old song, while I'm Yours is bewitching sensuality with a cheekily whip-smart lyric.
"I could be another notch on your belt-buckle, faking love honey, when we've had a couple, let's pretend it's cool…"  "A soothing song with a hint of menace," smiles Pixie, who wrote it in a friend's flat in Camden at Christmas 2014, above a sandwich shop, "eating a hot-pot". There's the wiggly wooziness of So Strong, the plaintive, piano-led Woman Go Wild and the tremulous Escape Route featuring Pixie's ghostly whistling. Her voice, meanwhile, is a revelation of its own; crisp, crystalline, transcendent, with a powerhouse ache, echoing both Ray of Light-era Madonna and the celestial sigh of an  archangel falling backwards through space. A once-cautious teenage vocalist, "I sounded like an infant", she is now, as she rightfully describes, "a different beast".
I"m Yours has been, as Pixie says, "a long time coming". Since aged 16 she'd been playing rudimentary guitar, writing songs both at home in London with long-time musician friends and in LA, an offer arriving from veteran songwriting giant Linda Perry when Pixie was 19 resulting in the country-pop serenade Everything, finally appearing on I'm Yours today. Throughout 2012 she'd been writing songs, recording demos and touring with her low-key grunge band Violet (named after a Hole song), still searching for her personal sound (as labels began approaching).
"I struggled to find exactly my sound," she admits. "I was into heavy grunge, forgetting the stuff I'd grown up on, which was country. I was doing the thing my friends in bands were doing, and getting frustrated. I wasn't getting signed. Now I look back and think, thank bloody God it didn't happen! At 21, 22 I finally got to grips with my own sound and ignored everybody else."
I'm Yours was on its way. In 2015 she signed to the independent Stranger Records as a fully-grown, art-pop siren.
"I hadn't thought about indie labels because I was worried they might be a bit cool," she grins. "I come with a package, unfortunately. But I met these three guys (behind Stranger) who were funny and lovely and just got it. I didn't want, 'so how d'you think you'll be marketed?' That's not what you wanna hear when you're trying to write songs. I just wanted to be told by someone completely absent from my life and didn't need to say it, it's good. It was an easy fit."
I'm Yours was recorded in LA in autumn/winter 2015 with Grammy/Mercury-nominated producer/mixer Tony Hoffer (M83, Beck, Goldfrapp, Air, Ladyhawke, Phoenix), where Pixie eulogised on her life-long psychedelic obsessions from Shuggie Otis in the 70s to the Flaming Lips today, "he made me super-chilled and just got the vibe", with additional strings from esteemed composer David Campbell (father of Beck), a man whose CV begins with work on Carole King's Tapestry, takes in Marvin Gaye's What's Going On, through the Rolling Stones, Neil Diamond and Radiohead, to Adele's 21.
"Holy crap, I was dying," she roars, of working with a bonafide master. "I went to his house, went into his bathroom and saw a gift from Leonard Cohen. What? Leonard Cohen is forever. I met these people who made this record so much more than I ever imagined it to be."
Her confidence was increasingly buoyed, too, by the recent-years rise of striking, left-field atmospheric pop. "Slow burns, at last," she nods. "I'd had trouble for years with, 'well, where's the big, triumphant chorus? Where's the lighters?' And I'd say, 'that didn't have to happen twenty years ago, why does it have to happen now?"
Pixie Geldof is a funny, smart, dynamic personality who calls herself "naturally quite reserved". In some ways she is typical of her generation; a pop-loving kid obsessed with Britney and the Spice Girls, whose grown-up musical epiphanies came via The Libertines and the Strokes, who loved Eminem so much she pinched a traffic cone "memento" from one of his gigs, and then wept at another when Slim Shady himself threw his towel into the audience. "And some other bitch got his sweat!" she hollers. "I totally could've licked it."
She became a gothy teenager, viewing the world as "dramatic and desperately sad, I was the most serious person alive". Evolving into an American glam-punk/grunge obsessive, she loved The Distillers and Hole (she'd meet both Brody Dalle and Courtney Love in the future, the latter giving her a dress, "she did not disappoint"), who, the first time she was ever in a recording studio, aged 18 in Camden, celebrated the momentous day with a wonky tattoo which declares on her forearm, dramatically, 'What will survive of us is love'. "It's coming off," she cringes, "it's ginormous". She's a country music scholar versed in all the greats, from Dolly Parton to Johnny Cash and especially Kris Kristofferson, "my favourite musician of all time".  She loves faded 70s glamour, retro-kitsch trousers, writing songs on an auto-harp and calls her long-haired chihuahua Buster, "the love of my life".
In other ways, she's not typical at all; the third daughter of famous parents Bob Geldof and Paula Yates, their marriage ending when she was 5, who then lost her mother altogether aged 10. Music began as a balm, the day she first picked up a guitar aged 13, off school and in bed with pneumonia. A fledgling song-writer by age 16 she had zero interest in fame, "it just didn't come into it and I still try not to think about it", who knows her background brings with it a curious expectation.
"People expect you to be bad," she cackles. "And a lot of people might think, well, you get doors opened that other people don't. But those doors come with the caveat of, well, you can come in only if we can judge you based on what your father's done. I'd rather the door be closed. Really, you could say anything about me and it wouldn't bother me other than, she's not talented because her father's famous. I'm aware that's a real thing. But I think that's a shame."
Pixie Geldof is talented, if anything, in spite of her famous family, I'm Yours the undeniable proof of a creatively dazzling new talent. She should be quietly confident, but she isn't.
"No, I'm loudly terrified," she scoffs. "Exposed, my worst nightmare. But I know the record is good. I know it's honest and real. And some people might find in it some kind of hope or help or understanding. And that's all I wish for."
Real: it's come around again, beautifully.
The double A-side single SO STRONG / ESCAPE ROUTE is out 17 June
Pixie Geldof's debut album I'M YOURS is released 4 November via Stranger Records
Contact Emma Harney / emma@orchestrate.ie