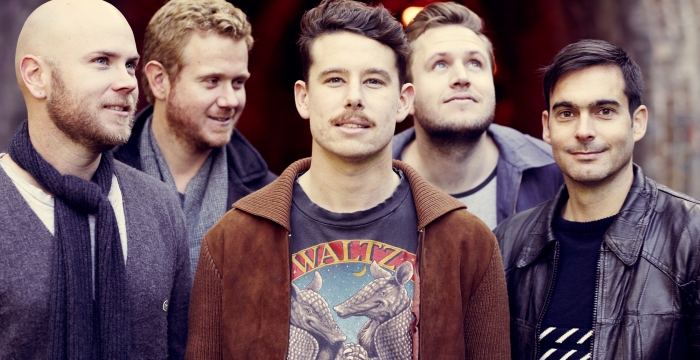 It was on the road in America that BOY & BEAR began to write their 2013 sophomore full-length and Nettwerk debut Harlequin Dream (releasing in Ireland on 26 September).
In 2011, mere days before the release of their US debut album Moonfire, the group played one of its most memorable gigs to date in front of a sea of people at Lollapalooza.  "That was pretty much insane," smiles lead singer/guitarist Dave Hosking. "To be a part of one of the most highly regarded festivals in the world was enough to feel really good about, but to get a few thousand people to walk up to our tent was a genuinely special moment. As we began playing, a storm started to settle over Chicago, and it created this palpably beautiful, electric, and moody vibe that we lapped up on stage. It felt totally right and, of course, as we hit the last chord, it instantly started pouring down!"
You could say that perfect storm heralded their arrival in North America, quite fittingly. Recording Moonfire in Nashville's legendary Blackbird Studios with producer Joe Chiccarelli [My Morning Jacket, The Shins], the quartet – Hosking, Killian Gavin (vocals/guitars), Tim Hart (drums, vocals, guitars) and Jon Hart (vocals/keys/mandolin) – toured the entire country for the first time, carving a sizeable fanbase in North America.
Hosking catalogued everything – the heritage in Nashville, the history (and gear) of Blackbird, going to the West Coast for the first time, tramping through New York City with locals, and "seeing parts of the world you would otherwise probably never see."
"We started writing on the road mainly because we realized we weren't going to have enough time when we got back to flesh out an album. It turned out to be a good decision as the road draws out some fairly sharp emotions and at times, real creative headspaces. I found it personally therapeutic being able to pick up my guitar in my hotel room and just pour myself into it."
In 2011, they returned home to Australia to claim 5 ARIA Awards including Album Of The Year, Best Group, Breakthrough Album, Breakthrough Single and Best Adult Contemporary Album for Moonfire. By the time Boy & Bear arrived at the legendary Alberts Studio [AC/DC] and added David Symes (bass) to the band, they were brimming with ideas for Harlequin Dream.
"The vision came early to focus on a lot of old pop and to really embrace classic structures and choruses in an adulterated way," says Hosking. "If it felt musical, we knew we should track it."  When all the songs were finally laid down, the band enlisted the talents of Seattle-based Phil Ek (Band Of Horses, Fleet Foxes, Built To Spill, The Shins, Sea Wolf) to mix the album and flesh out that vision.
On Harlequin Dream, there's more groove and color. It's warmer and fuzzier. It's less rock than the last album, but there are sexier guitar moments. These are songs that tell stories.
"Southern Sun" is a shining example of that dreamy pop panache and vivid storytelling. Coasting along on a lilting acoustic guitar, it builds into an undeniable hook. "It's a really simple song," Hosking adds. "I was always fascinated by something like America's 'Horse with No Name'. The song is only two chords, but it's completely captivating. That was in my mind. The longer I do this, the more I appreciate subtlety in music."
Elsewhere, "Old Town Blues," washes over the listener with a pensive poetry, and the title track boasts a jazzy reprieve in the form of their first saxophone solo. Meanwhile, "Three Headed Woman" explores a fraying relationship with a slow drum beat and soulful delivery. "It's a simple breakup love song," admits Hosking. "I was hurt and I was on the road. The song was nothing but therapy for me. We really embrace that super simple structure. I would love for people to say, 'Boy & Bear are pretty pop, but fuck it's cool!'"
In fact, this is just the right kind of pop. Now signed to Nettwerk, they're ready for their most exciting and intriguing chapter yet. There's something much deeper behind every heartfelt harmony and majestic melody. "I would love for people to be able to sing these songs in the shower—or anywhere for that matter—while discovering new sounds along the way.  It's pop music with hidden surprises."
"We're ambitious and love growing as a band. I've come to see this process from a broader perspective these days and the truth is I just want to keep getting better at our craft and have a long and happy career," Hosking concludes. "That takes work but we're ready for it."
www.BoyAndBearStore.com.au | www.facebook.com/BoyAndBear | www.twitter.com/BoyAndBear